Hold on to your seats, RESOLUTIONS by Teri Riggs will take you on one wild ride. I give it three stars for the fabulous action, but also for the numerous grammar issues.

In the novel, Drug Enforcement Agent Eve Taylor is injured and captured during an operation at a Columbian drug lord's compound. She is rescued by her old boyfriend, Dillon "Mac" McKenna, and while recovering from her injuries, they reconnect romantically. The issue that separated them two years prior has not been resolved, though, and as they battle assassins and traitors, they must learn to work together in order to stay together and alive.

For the most part, I really liked the action in this novel. It was quick and dirty. At times, it could have been a bit more descriptive; the dots could have been more clearly connected. Overall, though, the action fit well with the plot and kept the pace of the book moving at a nice clip.

The romance was believable, but graphic and frequent enough to make the novel appropriate for adults only. The arguments between Eve and Mac are frustrating because they both seem to repeat themselves, but perhaps given their situation and their suppressed emotions, these repetitive arguments are realistic. In any case, the reader will certainly feel some of the characters' frustration.

On the down side, there were some significant and distracting grammar errors--adjectives used where nouns or adverbs were appropriate, and vice versa, in both the English and the Spanish used in the novel. There is also no explanation as to what "IDEA" stands for, which was seriously bothersome. Every time the acronym was used, my mind kept trying to figure it out instead of staying immersed in the action.

Overall, the book was fairly enjoyable and should be a nice afternoon read for any action lover.
---
BOOK INTERVIEW on March 2014
---
Interview by Victoria:

Hi Teri, welcome to The Romance Reviews! We're so glad you're here to talk about your book, RESOLUTIONS!
Q: RESOLUTIONS is the first book in the Honor Guard series. What's the series about? What connects all the books in the series?


The
Honor Guard
series is actually the name of a line for Decadent Publishing, mostly featuring hero/heroine who are military, cops, and other high danger types. There are several other authors who write books for the
Honor Guard
series and they are not connected to RESOLUTIONS. I enjoyed the characters and would love to have RESOLUTIONS become a series. Resolutions, Inc. is the name of the black ops group Mac works for. The company specializes in high risk extractions.
Q: Interesting. Glad you cleared that up for us! :) RESOLUTIONS seems like a story ripped straight from the headlines. What inspired you to write it?


I've always been drawn to military romance. It's what I read. Making RESOLUTIONS a private company lets me play a bit outside the lines.
Q: The novel deals with government agencies that often operate covertly. What was your research process for the novel? Please share an interesting fact you've uncovered or unique experience.


I spent hours researching all things military trying to find what would make RESOLUTIONS different than most drug lord books. I imagine I'm on Homeland Security's watch list. I'd say the most disturbing research I did for the book was learning about the Colombian drug trade. The money involved is staggering. What was most disturbing to me was some of the ways the drugs are smuggled and the worst way involved using puppies.
Q: How do you craft the different alpha male personalities in the novel? How do you make them distinct from each other? Do you base them on real people?


I start with a list of all the traits I want each character to have and work from there. I give them a background that shapes their behavior. I try to form the personalities of the alpha males with all the normal alpha quirks, and then add a few more qualities unique to each character. For example, I gave Cade (Mac's partner) a good sense of humor to differentiate Mac's more serious approach to life. Yes, I do base a lot of my heroes on real people. We all have our own real life champions.
Q: Tell us more about Mac. What in his past makes him into the man that he is? What makes him a swoon-worthy hero?


Mac lost his mother when he was a teenager. In his mind, her death was unnecessary. I think his love of Eve and willingness to change for her, makes Mac very swoon-worthy.
Q: What about Eve Taylor? How does her profession as a DEA agent play into shaping her character? Or, what in her character makes her a successful agent?


Eve has wanted to prove she is capable of taking care of herself since she grew up and moved away from the four overprotective brothers who raised her. As a DEA agent, she uses her skills during every assignment to show just how tough and independent she can be. Her determination is one of the reasons she's good at her DEA job. She never gives up.
Q: Eve and Mac share a tumultuous past. How was their first meeting years later like?


The first time Eve is recovered enough to really talk, she and Mac get into an argument. Some things never seem to change. Mac has just accused Eve of sleeping with her partner Rex and she's not going to take it.
Excerpt...
"Why would you care? You finished with me two years ago."
Mac had gone too far, but he couldn't seem to stop. "Correction. You walked out on me two years ago."
"No, you drove me out. Get your facts straight."
"The facts? The fact is, I was right. You're in over your head with this job of yours. Here's another fact. You had my replacement lined up less than twenty- four hours after we parted ways." Less than twenty-four hours after we made love for the last time.
The pink tint of her skin turned darker. She sputtered, "Your replacement? Listen you arrogant piece--" Eve tried to sit and winced. She slumped onto the pillows, her chest heaving, perspiration gathering on her face.
He shot off the chair and reached out to help. She flinched before waving his hand away.
Mac went still at her reaction. She's afraid of me? She hates me that much? His anger faded to regret. A sudden need to apologize, to take back his hurtful words, overwhelmed him. Rubbing both hands over his face, he took in a deep breath.
"Listen, Eve. I don't want to fight. Let's leave the past where it belongs. In the past."
"Apology accepted."
Now was not the time to revisit their history. Mac let her take a minute to settle and then changed the subject. "You gave us a scare, but you're on the mend now."
"Us?"
"Me and my team. We got you out of Mendoza's compound. You've met most of the guys before."
"I have?" She looked around as if she expected them to pop out of the woodwork.
"Sure, Warner, Corelli, and Beauchamp. And a guy you haven't met. Jake Chapman."
"I see. I'm just another job for you. IDEA called in Resolutions and Hutch sends the famous Dillon McKenna to rescue the poor, helpless little woman. I bet you accepted gratefully, eager to get a chance to finally tell me you were right all along. Well, mission accomplished. You've saved the day and you've pointed out, not only once, but twice, just how right you were. I'll make your day even better by admitting what you're dying to hear. You were right. I'm a piss poor excuse for a field operative. I let my team down. Even got one of them killed. Happy now?"
Mac wanted to reach out to her, but held back. "No, Eve. It's not what I meant at all. Let me expla--"
"Doesn't matter. I'm tired. I don't want to talk anymore." She turned away from him.
"But, Eve--"
"Please. Let me rest."
"Sure. We'll get you out of here in a couple more days."
"I'll be ready." She came across quiet, but firm.
Mac adjusted her covers and sat down. Eve kicked them off and rolled back facing him. She glared at him.
"You don't have to stay. I'm fine. Surely, you have a million other things you'd rather be doing. Maybe you can find a few other damsels in distress to rescue."
Mac set his jaw and muttered, "I'll watch over you." There was no place he'd rather be, and nothing he'd rather do. "I'm not leaving you alone."
"I don't need you. Really, you can go. If I recall correctly, you're damned good at leaving." Had he heard her right?
"What did you say?"
"Never mind. Just close the door on your way out."
"Baby, I'll be happy to close the door for you, but I'm not leaving."
"God, you're still a stubborn ass, aren't you?"
"It's been rumored." Mac settled back. "I'm staying. Get used to it."
Q: Now, this is just something that bothered me when I was reading the book, but what does IDEA stand for?


International Drug Enforcement Agency. It's the name of the task force who Eve is currently assigned to. It's a joint venture between DEA, FBI, ATF, and a few other agencies.
Q: What's up next for you?


I'm working on book two of my
Kennedy O'Brien
series and have finished outlining another Resolutions book.
Wow, awesome! Can't wait 'till the next book gets here. Thanks a lot for joining us and giving us a peek into RESOLUTIONS.
Bio:
As a child, Teri made up her own bedtime stories. When her children came along, Teri always tweaked the fairy tales she told her daughters, giving them a bit more punch and better endings when needed. Now she spends her days turning her ideas into books. She lives in Marietta, GA with her husband.
Website:
http://teririggs.com
Blog:
http://teririggs.blogspot.com
Facebook:
https://www.facebook.com/pages/Teri-Riggs/329379907142621
Twitter:
https://twitter.com/TeriLRiggs
GIVEAWAY!!!
Teri is giving away
1 copy of RESOLUTIONS (print for US; ebook for international)
. Thanks, Teri!
ADDITIONAL GIVEAWAY!!!
TRR is also sponsoring a prize! For each comment on the following interviews,
Cupid's Arrow by Jianne Carlo
Resolutions by Teri Riggs
You get one additional chance to win this!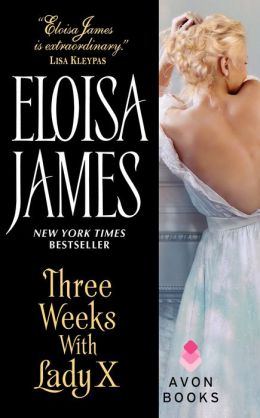 THREE WEEKS WITH LADY X by Eloisa James (winner's choice of paperback or ebook). International winner!
Mechanics:
Simply
write a comment or a question in the comment box below
to be entered into the giveaways!
Contest ends March 31, 2014.