Though bleak at times and often overwhelming, at its heart, Anna DeStefano's second visit to Mimosa Lane tells a story of hope, survival and the redemptive power of love. Her empathy for her characters and their situation makes for engrossing, cathartic reading that will not be easily forgotten by fans and newcomers alike.

Twelve years ago, Sam Perry's life was a dream. She had a husband, Brian, whom she adored, and a job as a preschool teacher that fulfilled her every day. But all that changed on September 11, when her world literally crumbled around her, forcing Sam to hide inside herself. She has stayed hidden ever since. Not even moving to Chanderville, Georgia, and the idyllic street of Mimosa Lane with their two sons has truly helped Sam move on from the grief of that day.

Tired of letting her husband to make excuses for her panic attacks and inability to face everyday activities, Sam has decided that today is going to be different. No matter what, she is going to face her sons' school bake sale and be the mother she knows her children deserve. But when a school shooting rips apart the world that Sam and her family have so carefully built, Sam faces the agonizing, terrifying task of recovering yet again, this time along with the entire town of Chanderville.

Brian Perry would do anything in the world for his wife, and has spent the last twelve years trying to make their lives right again. When this latest tragedy drives Sam even farther from her family and from Brian personally, he realizes that this time he will lose her—unless he is willing to fight for the love they share and the future they both dream of having. As his fight to win his wife and heal their rift engages the attention of the residents of Mimosa Lane, many of the scars and fears left over from that fateful day begin to emerge, and slowly, Sam and Brian realize that their healing is part of the recovery that Mimosa Lane has to endure.

The world of Mimosa Lane is as beautifully drawn as ever and filled with characters who are all complex, sympathetic and down to earth. No one is untouched by the tragedy that visits Chandlerville, and each character and family deals with that grief and recovery process in different ways, making for a wonderfully three-dimensional read. Fans of the series will enjoy seeing some old faces and catching up on their progress, but readers new to the series will have no problem becoming familiar with the world surrounding Sam and Brian.

While Sam is clearly the focus, Anna DeStefano is very careful to show how grief, fear, and loss can affect every life they touch, and lets her readers see and feel for each character. Personally, I was able to sympathize most clearly with Sam's husband, Brian, and it's a sign of the deep sympathy with which each character is treated that the heroine's perspective was not the only one presented in a three-dimensional way. The author also has a keen talent for writing through the eyes of children, making them as believable as the adults, and often even more perceptive. Watching Sam's two sons handle their grief and their parents' struggles was one of the most memorable parts of the book for me, as well as some of the most emotional.

From every angle, this second Seasons of the Heart novel is a wrenching, heartbreaking, and ultimately redemptive story that isn't afraid to go into some of the darkest places in the human heart, in order to help its characters find their way to the hope and love that wait on the other side. The power of the love her main couple shares is the kind that can work miracles, and does, as Sam and Brian struggle to find their way to each other. Though not always an easy read, Anna DeStefano's empathy and evocative writing creates a story that will linger long after the final page has turned.

---
BOOK INTERVIEW on September 2013
---
Interview by Bridget

Hi Anna, welcome once again to The Romance Reviews! We can't wait to hear all about the second book in the Seasons of the Heart series!
Q: What was your inspiration for your bestselling, award-winning Seasons of the Heart series? How do the books in the series tie in together?


Believe it or not, these are my "anti-Desperate Housewives" books ;o) Hence the "Mimosa Lane" rather than "Wisteria Lane". I wanted to show what it's really like to live in a suburb of a large city like Atlanta—the heart and soul of the communities I've grown up in and around, and the lives of some of these amazing families and characters I've been wanting to write about for years.
Reader response has been off the charts for both Christmas on Mimosa Lane and THREE DAYS ON MIMOSA LANE. I couldn't be more thrilled by the chance to reach the ever-growing audience looking for heartfelt family dramas that inspire them in their own lives.
Q: Understand that THREE DAYS ON MIMOSA LANE is book 2 of the series. How did the story for this book develop, and what was your inspiration?


I've actually had the idea for the heroine in this story, in the back of my mind for years—and I introduced her in Book 1, the Christmas novel I released last year. Sam Perry was a preschool teacher at Ground Zero on 9/11. My mother-in-law, a New York city school teacher, told me not long after that horrible day about the many schools that serviced the families that worked in the Twin Towers, and about the heroes all those teachers were that day—to the children and parents who depended on them to take care of their students and get them off the island to safety and whatever family could be contacted. The impression her story made has never left me, and I'm thrilled to finally have the chance to imagine a happy, if not altogether easy, ending for one of those brave women.
You'll fall in love with the Perry family and their fight to recover from the kind of trauma none of us hope to ever face. I absolutely insist that you do!
Q: What kind of research did you do into the psychology of your characters and the ways in which they handled the events of the book? Was it difficult to get into their heads at any point?


I've done a good bit of work in grief recover and crisis care/intervention: with women and families and children in crisis or recovering from trauma. Totally in a "lay" capacity, which means that my job was to be a trained listener and to walk beside these brave souls as they pieced their lives together again. I feel very much like that's my job as I write stories like THREE DAYS, too.
I have definite ideas of the life events I want my characters to deal with (the 9/11 tie-in for Sam, as well as the school shooting that happens early in the story that draws her entire family into facing the kind of trauma only she's had to deal with so far). But once the bones of the story begins to take shape, I'm simply walking beside my characters again, as I did in real life, listening to what they're trying to tell me, reflecting what I think is most important back, and crafting a beautiful experience out of the sometimes difficult but always heroic emotions they fight to handle and overcome and thrive through.
Q: The first Seasons of the Heart novel dealt with two strangers falling in love. How was it different writing about a married couple that shared a history like Sam and Brian?


Sam and Brian are married—but they've become very much strangers to each other, as they've over the last twelve years very carefully, tragically, sidestepped dealing with much of the pain and recovery Sam (and Brian) needed to face after 9/11. They're a loving couple, and they're trying to raise their two boys as best they can.
They're accepted and admired on picturesque Mimosa Lane…but there's something not quite real about the way they deal with each other and their world. And when a new shock blows them out of their comfort zone, the gloves are off and the finally see each other for who they've really become—and begin fighting for who they were always meant to be!
It's an amazing story—made even more amazing by the fact that the story spans eight months, but I only show you 3 days in that timeframe (well, okay, I give you 4 days, if you count the epilogue). I can't tell you how exciting it was to craft such a rich, deep relationship and over-arching story with that kind of focused structure. I'm DYING to know what readers thing.
Q: What is your favorite scene between this couple?


I love this exchange the most, I think, because it's when their romance finally arcs into its last act—where they're fighting together again, emotionally, instead of against each other:
"Hurry," she whispered.
He sat up, chuckling. "I'll remind you that you said that."
She settled against him perfectly, balancing in his lap, and raised her arms high while he peeled away the material that was in his way.
"You're supposed to be playing hard to get," he reminded her, burying his nose in the cleavage created by her powder pink bra.
"Maybe I want to get gotten," she said against his neck. She kissed her way down his throat. Her fingers unbuttoned his dress shirt.
The husky timber of her voice, the need in it, stopped him. He framed her face with his hands.
She lifted her gaze until she was looking at him, looking into him, there with him while they both tried to catch their breath.
"I'm so sorry," he said. "For everything. For not fighting for this sooner. I let it slip away. I let us slip away. The closeness. The talking we used to do, and the dreams we had. The family we wanted, and knowing that no matter what, we could tackle anything together…"
Q: What is the most romantic thing Brian did for Sam?


I don't want to give too much away, but gardens and walking/spending time outside are very important themes for Sam. She's agoraphobic at times and has difficulty being indoors or around a lot of people, so she self-medicates with spending as much time outside as possible and had become an avid gardener, though she doesn't consider herself very gifted at it.
Overwhelmed with the trauma of her son nearly being killed in a school shooting (which she witnesses), she abandons a lot of her "happy" life on Mimosa Lane as she tries to make sense of her world, including letting her treasured garden go until it becomes a shambles.
And once Brian realizes exactly how much her former passion meant to her, and wants to draw her back to him and their sons and their home…guess what he and the boys bring back to life, just for Sam…!
Q: Please give us some insights into how Mimosa Lane and its inhabitants have evolved or grown since the first book in the series.


I'm just finishing edits for the third book in the series, Love on Mimosa Lane, which launches in January of '14. And I'm not so sure the characters themselves are evolving, as much as the perspective of their stories is changing over time.
Christmas on Mimosa Lane is a very internal/introspective story about charming people who have isolated themselves from their "perfect" community—and how they draw each other out and into the lives of the world being lived around them.
THREE DAYS ON MIMOSA LANE uses a bit wider lens, as Sam is evolving into a more active character in the small town of Chandlerville from Page 1 of the novel. She reaches out to friends and neighbors to help her and her family through their difficulties, and she helps those same families as well. We see the entire community come together as they share the burden of recovering from the school shooting—and helping the children and families who've been so badly hurt by the unthinkable happening in their midst.
Love on Mimosa Lane, though still very much a relationship story, and perhaps the most traditional romance of the three so far, is a love some for the entire community of Chandlerville, as even more characters and journeys are introduced—and as "it takes a village" to the children who need so very much in that story…
Q: We've mentioned before about your knack for creating children characters in your stories. Please tell us how you went about creating Cade and Josh and bringing them to life.


I have a teenage son of my own and a husband and an older brother. And I love working with kids—seeing the world through their eyes. Nearly every book I've written has had at least one child's point of view, and Cade and Joshua are two of the most "organic" children I've ever written. First draft, when I was still writing rough, nearly every scene they were in was pure dialogue. It felt almost as if I were channeling these two brothers, copying down what they were saying—and then I got to go back and fill in the blanks of what they were thinking and feeling (about each other and the other characters in the book).
Their relationship, and their relationships with the adults in THREE DAYS, was truly a pleasure to discover…
Q: How difficult was it as a writer to discuss the events that drove this plot, such as memories of 9/11?


I remember 9/11 so vividly. I was working on a book then, even though I wasn't yet published, and I just stopped. All the creativity inside me dried up for weeks. I couldn't get anything down on paper—and that was simply from watching the coverage on TV news. The emotions were that strong.
Researching and writing about that day from a survivor's viewpoint was challenging, but I also felt as if I was honoring the heroic spirit of everyone who fought through their trauma to go on. I wanted to imagine a happy ending for all the lives that were touched so brutally by that tragedy. I wanted to believe, and still do, that there is always hope and a way back from even the darkest places.
Q: In conceptualizing your stories, which would come first to you: the plot or the characters?


I'm a character-driven writer, always. But THREE DAYS came to me mostly as plot first. I knew Sam well (from Christmas on Mimosa Lane), and I had a rough idea of what she and her family would be dealing with, emotionally. But externally (plot-wise), this is a big story, and I needed to get the "what" under control much sooner than I normally worry with it when I'm drafting.
I'm covering a 9/11 survivor and her long-term trauma as well as its effect on her family. I'm showing a loving marriage, but one that is in jeopardy, because my couple's spending all their energy on being "ok" instead of dealing with the HUGE issues they need to face before either they or their kids are really going to move on from the past. A school shooting is a major plot point early on, and there's not only the effect of the Perry marriage and family to contend with, but the larger community impact. I'm showing friendships, relationships of various kinds (mother-son, father-son, spouses, brothers, friends, neighbors, enemies, school, work, etc.) grow and change. And the list goes on. AND, I want to show only the three pivotal days that are most important to how all of these great plot changes and twists and turns show us the story. Oh, and it's first and foremost a romance…
It took a long time to get my head around plotting this one, but in the end it was all worth it. THREE DAYS ON MIMOSA LANE is full of some of my very favorite characters!
Q: Please tell us about your upcoming projects. What's up next for you?


Love on Mimosa Lane is an amazing third book in the
Seasons of the Heart
series, and a bridge book into continuing to share more of the amazing lives and families that make up Chandlerville, GA. It's also one of the neatest romances I've gotten to bring to life in a long time.
Kristen Hemmings (Chandler Elementary's assistant principal) is all about being careful and caring for her community—just as long as she doesn't have to get too close, emotionally, to anyone. It's better to protect herself that way. So of course she falls head over heels for the baddest boy in town…or so she thinks, until he turns out to be the hero of her dreams, and Kristen's the one who can't cope with the growing attraction between them. Except they have to work together, to help two very special and troubled kids, and no way will our heroes back away from that kind of challenge, right?
Of course, because we're talking about one of my novels, there are deeper themes at work and a lot bigger pictures to paint. But Kristen and Law (the bartender in THREE DAYS ON MIMOSA LANE, are an amazing couple I'm thrilled to have had the chance to write. I'm hoping you'll love them just as much ;o) Check it out
Seasons of the Heart
Book 3 in January and let me know what you think!
Awesome! Can't wait! Thanks for being with us to talk to about the latest novel in your award-winning series. It's a pleasure to have you with us!


Bio:
Anna DeStefano is the award-winning, best-selling author of more than sixteen novels. Her background as a care provider and adult educator in the world of crisis and grief recover lends itself to the deeper psychological themes of every story she writers. With a rich blend of realism and fantasy, DeStefano invites readers to see each of life's moments with emotional honesty and clarity.
Website:
http://www.annawrites.com
Blog:
http://www.annawrites.com/blog
Facebook:
https://www.facebook.com/anna.destefano.7?ref=tn_tnmn
Twitter:
https://twitter.com/AnnaDeStefano
Pinterest:
http://pinterest.com/annadestefano/
Backlist:
GIVEAWAY!!!
For all Featured Book Interviews, TRR is sponsoring a prize!
Each comment you make gives you one additional point to win this—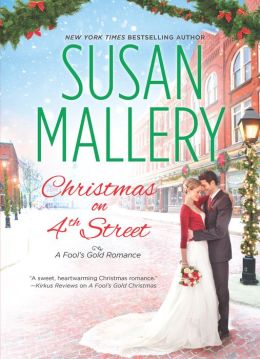 CHRISTMAS ON 4TH STREET by Susan Mallery (paperback or ebook) –
Read the review here!
– International winner!
Mechanics:
Simply
write a comment or ask a question in the comment box below
to be entered into the giveaways!
Contest ends September 30, 2013.