This was a very unusual book for me, different from the type of thing I usually read. But the blurb sounded really interesting and different and I love stories with a theatrical flair.

This is the story of two people mainly--Allan and Warwick, who go into the afterlife together with a few unresolved issues. The main issue is that Allan is head over heels with his best friend, Warwick, but has never told him and now it seems he might never get the chance. But wait. Is that an angel lurking in the wings of the Afterlife, or the Limelight District as it's known? It is indeed.

Guy is an insecure angel who has never learned to fly and believes himself to be an orphan. Guy proves himself to be a really good friend to Allan who is pretty confused and not sure where he stands with Warwick. Especially when Warwick hooks up with Pedro, an actor in the heavenly play they are all characters in, and breaks Allan's tender heart once more.

The book is written in first person POV from Allan's perspective so we really only ever get to know how things are via his views and story. But this in no way detracts from the fact that is an extremely well-written book, with diverse characters, some beautiful plot lines and characters that fly off the page at you. It's all set in a 'Hollywoodesque' scene, full of prima donnas, eccentric actors and a host of support players that flit in and out of the story as required.

I did find it a bit confusing, as I kept trying to remember all the characters that were introduced and had to keep skipping back to remind myself who they were. I also found myself having a little less patience with Allan as the story went on, wanting to shake him 'til his teeth rattles and tell him to find someone else to expend his energies on as Warwick wasn't worth it! Perhaps Guy? He seemed like a pretty nice angel...

I found the story a little drawn out, taking some time to get my attention so I could discover exactly what was going on. I wasn't sure of the ending, either. I understand the author plans a sequel but I'm not sure where it will start from, bearing in mind the ending. I'm a sucker for HEA and I didn't really think this had one. It might have been a 'celestial' happy ending, but I wasn't sold on it.

But this is still a great read if you love a story that's truly different, touches on the evangelical and you have a better memory than I to remember the characters. All in all, a lovely, refreshing read that is very different to anything I've read before.

---
BOOK INTERVIEW on September 2013
---
Interview by Laura

Hi Kevin, welcome to The Romance Reviews! We can't wait to hear all about your book!
Q: Where did the inspiration for DRAMA QUEENS WITH LOVE SCENES come from?


Nearly ten years ago I was influenced by the rise in TV programs centred on the theme of death.
Six Feet Under
had begun, preceded by years of shows where a main character would die but stay around as a ghost to help other characters resolve their issues.
So I was tempted to reverse this idea, where the dead have issues to resolve in the Afterlife. I called the first draft 'Staging Life' and was going to have my characters cast in plays centred on plotlines similar to the life they'd just lived. I was even considering having their reincarnated lives involved, making them discover that they've been repeating the same mistakes.
Fortunately as I started that first draft, that idea faded. The theme of unresolved baggage is still there, and the plays Allan and Warwick are cast in touch on those issues, but they are not at the centre of the plot. Comedy; unrequited love; the mystery over how they died, and a quirky cast of characters took over the story.
Q: The world of theatre in the Afterlife sounds interesting. What made you select this as the setting for this story?


Many years ago I was a drama student with the usual delusions of grandeur, so writing about those experiences came easy. And as acting helps build confidence, I thought it would be the perfect place to start with my main character, Allan, who needs to find himself in the story.
The Limelight Quarter is the Afterlife's Drama District, so I got to play with theatrical tragics from different periods of time, keeping the characters colourful and satirical. It also gave me a new twist on an old tale where the person who usually ends up in the hereafter had a very ordinary life.
I didn't want the same constraints as I aimed for the book to be as entertaining as possible. None of my characters are ordinary, so my dead thespians have room to move in an eccentric setting, allowing the reader's imagination to run wild.
Q: Allan sounds like an intriguing fellow, what with the conflicts he has to face. Please tell us more about him. What kind of person is he? What kind of personality changes did he undergo in the Afterlife?


Allan doesn't believe in himself. He spends time going over what he should have said at major points in his life especially in relation to his best friend, Warwick, who he's secretly in love with. But now they're both dead and Allan is not only wondering how they died, he also suspects that there may have been some romance between him and his friend. He just can't remember. And to make matters worse, Warwick falls for cocksure playwright, Pedro, at the end of the first chapter.
With his closest companion out of the picture, local angel, Guy, becomes his main support. It's this new bond that helps both Allan and Guy grow. Their exploits at The Pedestal, a bar in the Limelight Quarter, sets them up for impromptu adventures. Allan's unrequited love is a concern for Guy, while Guy's inability to fly intrigues Allan. Allan also seems to be the target of suspicious accidents; making Guy question whether his new buddy is paranoid.
With all this on Allan's plate, he slowly comes to realise the true nature of love.
Q: Please tell us more about Allan's love interest: best friend Warwick. What makes him a match for Allan? What does Allan see in him?


Warwick has always been there for Allan in the short time they've known each other. Allan was not the most 'out there' gay, but his friend helped him come out of his shell over time. There was an instant spark when they first met, but the mystery of whether they were in love before they ended up in the Afterlife is one of the main mysteries in the book.
For most of us gay guys, there have been other gays in our development who have been stronger in character than us, giving us a hand in loving ourselves. That's what Warwick represents to Allan. The friend he needed at the time who gave him the life he was waiting for. As Warwick goes down his own path in the Limelight Quarter, the connection they once had starts fading.
This is where questions arise about their unrequited love. Is Allan simply infatuated? Did Warwick feel the same but wanted Allan to give him a sign? Were they meant to be together but their timing was off?
We see these same situations happen to the people around us and it's a theme I wanted to explore in this story.
Q: What's your favourite part of the story?


Originally I self-published the novel before Charles River Press offered me a contract and made me revamp the novel over three months. The excerpt below was going to be cut out of the rewrite, and a friend of mine agreed that it should have been left out. I'm glad my instinct took over and I worked it back in. Just knowing that it was almost lost makes it one of my favourite parts of the story.
"Warwick!" I yelled. "Are you there?"
There was no answer. A couple adorned in bohemian black, stopped in their tracks the moment I shouted to my ex-lover.
"Broken heart," whispered Guy to the interested onlookers.
"I understand," replied the woman. She looked up to her man. "Poor thing."
"Go on, Allan, call out again."
"Warwick! Warwick! I love you." My voice echoed from the building as I looked to my angel friend. He nodded and caressed my shoulder. The couple nodded as well. "Warwick, are you home? I need to talk to you. Will you come down, please?"
"Keep going, Allan."
"I really need to talk to you. I have so much more to say to you. I should never have let you walk out of my door the other night. I've wanted to talk to you so many times during the last few days, but there's nowhere private at the theater. Plus I'd probably break down which is not a good look when you're wearing white grease paint."
A few onlookers came out from their balconies. I glanced at Guy who was joined by a small audience. Some parents had let their kids stay up well after bedtime, and their freckled little girl was giggling at me. Her mother shushed her so she sat on the ground, sulking.
"Don't worry about it, Allan. Just go on."
"Yes, we're right behind you," said an elderly lady with bad teeth. "You make him listen."
"Warwick, I love you and I know you love me. You told me so. You said you've been waiting all year for me to make a move, and as you know I've been waiting for you to make that move too."
"You tell him, love!" interrupted the old woman.
My support team began to chant Warwick's name. I was empowered. I encouraged them to clap their hands in time. They did. There was about ten of them now, and their support gave me a warm glow in that frosty breeze. However, Guy looked worried.
Q: One of your secondary characters is an interesting insecure angel. That's something we've never seen before. Tell us more about Guy. Where did he come from? What makes him a beloved character across your many readers?


Guy's popularity has surprised me. A friend of mine describes him as someone we'd all love to have in our lives. He's full of wisdom and support, but he's in need of nurturing at the same time. He's the first component of a friendship that would be a true 'two way street'.
He's based loosely on a person my partner and I used to know. We even took him in as our Pygmalion project but learned quickly that he wasn't ready to help himself. So we drifted apart.
That's the basis of Guy, except in the novel he does grow. But he's a secretive soul as well. He always knows more than he lets on, and like a true friend or parent, gives away just enough information for Allan to find his own answers.
Q: Which came first for you: the story or the characters?


The story came first, then the characters, then a rethink of the story. This novel was a hobby I started about ten years ago. My partner would play tennis on Thursday nights, leaving me to rediscover my childhood passion of writing. So I handwrote the story in a journal.
Over nine drafts it has been assessed three times by an expert; another time by a panel of experts who just didn't 'get it', and one last time by my editor for Charles River Press.
The original draft had more characters and a vaguely similar story. But too much of the drama was happening to other people rather than my main characters, Allan and Warwick. So after assessment one, characters were cut (and some were melded), and a romance was started. The skulduggery that still appears in the story had to be developed and brought to the fore.
My partner and my friends have also contributed with ideas and one liners, most of which have been worked in on different drafts.
Q: Would there be a sequel to this book? Please give us a sneak peek!


I'm working on Drama Queens with Adult Themes at the moment, and have written some parts of the last in the series, Drama Queens and Devilish Schemes.
The second is set both on earth and in the Afterlife and looks at midlife crisis, while the last is solely set back in the Afterlife and features the devil.
The first chapter of the sequel can be read at
http://www.readwave.com/drama-queens-with-adult-themes-draft-first-chapter-_s11048
- but I've added another preview below.
"Wade, I love you."
"I love you too, babe."
"Is this what a midlife crisis feels like?"
"I don't think so, Adam."
"Why do you say that?"
"We still love each other."
"So?"
"Think about it, Adam."
I gazed out from the passenger door at the appealing brick house we parked in front of. Someone had spent their hard earned cash to buy it and maybe someone had spent more money renovating it. Perhaps in old-world elegance or as an understated minimalist designer statement. They would have argued under its roof. Possibly committed illegal acts in the shed. Made love with the curtains open. Either way, someone has built up a past in this house, just as we had in
our
home. There was no chance in hell that I would give it all up.
"You're right, we're still madly in love," I said. "Neither of us is stupid enough to believe that we've fallen for Mannix. We're just going through a phase."
"True, Adam. Remember Simon and Jean. Now there was a midlife crisis!"
"Oh god, yes! I can see why a trapeze artist would be a good catch to a man with an uptight wife, but at least he could have stopped to think about what he was getting himself into beforehand."
"Two bratty kids to a second marriage when he should've been thinking about retirement," said Wade.
"That Oscar and his little peeing problem. A six year old shouldn't still be wearing nappies when they visit friends."
Wade started the engine.
"They claim it's a medical condition, Adam."
"Medical condition, my arse! He wants attention and Simon is past the parenting age. As for that trapeze artist, well, there's a circus short of a clown."
Q: What's up next for you?


I'd like to finish the series of three books, as well as finishing a series of short stories centred around Guy. The first one is free at
http://kevinklehr.com/free-stuff/
In the back of my mind is the basis for a horror story also. It might come to the fore one day.
Thanks for being here to talk to us about your latest novel. It's a pleasure to have you with us!


Bio:
From an early age Kevin had a passion for writing, jotting down stories and plays until it came time to confront puberty. After dealing with pimple creams and facial hair, Kevin didn't pick up a pen again until he was in his thirties. His handwritten manuscript was being committed to paper when his social circumstances changed, giving him no time to write. Concerned, his partner, Warren, snuck the notebook out to a friend who in turn came back and demanded Kevin finish his novel. It wasn't long before Kevin's active imagination was let loose again.
His longest running passion is a weekly radio program he produces with Warren for local Aboriginal and Torres Strait Islander station, Koori Radio. Since 2004 they have been discovering music, both new and old, and interviewing local artists and community leaders. Every Friday night,
The Rhythm Divine
is heard across Sydney and via the World Wide Web.
Website:
http://kevinklehr.com/
Blog:
http://kevinklehr.com/occasional-blog/
Facebook:
https://www.facebook.com/kevin.klehr.1
Twitter:
https://twitter.com/kevinklehr
Backlist:
Free short stories at
http://kevinklehr.com/free-stuff/
GIVEAWAY!!!
For all Featured Book Interviews, TRR is sponsoring a prize!
Each comment you make gives you one additional point to win this—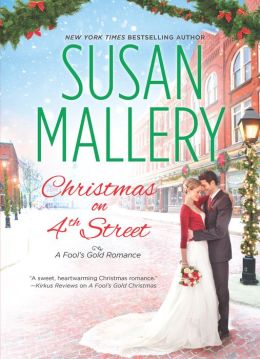 CHRISTMAS ON 4TH STREET by Susan Mallery (paperback or ebook) –
Read the review here!
– International winner!
Mechanics:
Simply
write a comment or ask a question in the comment box below
to be entered into the giveaways!
Contest ends September 30, 2013.