---
BOOK INTERVIEW on July 2014
---
The Gull Motel
Interview by Laura

Hi Amie, welcome to The Romance Reviews! THE GULL MOTEL sounds intriguing. Can't wait to hear all about it!
Q: What's your inspiration for this book?


I love to travel, and I find hotels and motels fascinating. I love to stay in fancy resort hotels, but there is something fascinating about those old "mom and pop" places you see along the road. They must have a lot of stories to tell! There really is a motel called The Gull Motel in the town where I live, and there are several with the same name throughout the U.S. I chose to set my Gull Motel on the Gulf Coast of Florida because I love Florida! My two older sisters live there, and they helped me with some details and plot suggestions on this book.
Q: Please tell us about the heroine, Savvy Thorpe. What kind of person is she? What in her past influenced her to be the person we meet in the story?


I think we all have a little bit of Savvy in us. She wants people to take her seriously, value her intelligence, and trust her with an important job. In her heart, she's not sure she's as savvy as people seem to give her credit for, and she really hopes no one ever finds out! She loves to travel and has been to her aunt and uncle's Gull Motel so many times that it feels like home to her. What better place to prove her skills at hotel/hospitality management before she moves on to a fancy resort?
If she moves on...
Q: She has got quite a unique name. Any reason for giving her that name?


Names are really important to me as an author. I can't get to know a character or write about her until I find her the right name. This name was suggested by one of my sisters (I have three sisters) who knows someone named Savannah who is called Savvy. I thought it was cute and clever, and it gave me the inspiration for making her a "savvy" gal.
Q: How's her relationship with her aunt and uncle that they would leave her to manage the motel while they take a trip?


Because her aunt and uncle have no children, they have always treated Savvy like the daughter they never had. They love and trust her, and they have complete confidence in her ability to run their beloved motel while they are away. She can't let them down!
Q: Who is Skip McComber? Please tell us more about him.


Skip is a local boy who grew up in Barefoot Key but does not plan to take over his father's fishing charter business. He has a good reason for not following in his father's footsteps, but he doesn't like to talk about it. Good with his hands (in more ways than one), he worked at The Gull Motel for almost six years as the maintenance man until he took a chance on buying the pirate bar next door.
Q: Apparently, our hero and heroine had a fling before. What is their meeting like years after their fling?


Although they have flirted with each other for years, it was only six months prior to the opening chapter of THE GULL MOTEL that they finally went to a whole new level. They can't manage to have a rational conversation about it (don't judge them, that's a tough thing to do), but here's an example of one of their attempts:
It was barely past eight o'clock in the morning, so I didn't have my Florida heat armor on. No sunscreen, no ponytail. I was also missing my academic armor. No glasses. Sunrise on the Gulf Coast is less impressive than sunset for obvious geographical reasons, but morning on any beach is beautiful. Some mysterious army of tractors pulling trailers rigged with giant rakes had already been by and combed the beach. I never thought about where that beach crew came from, but figured it was one of the city-funded perks of Barefoot Key.
I rolled my toes in and out of the grooves left in the sand, trying to get my thoughts in a groove. What kind of amenities could I offer guests that would fill rooms on quiet weekdays in the fall? What services could I tack on some extra fees for that people would jump at? What did Barefoot Key and The Gull have as playing cards?
My parents were seasoned travelers. I could ask them for suggestions since they'd stayed in fifteen different hotels in all fifty states. But I needed to figure this out for myself.
I watched a fishing charter leave a wharf several properties farther down the beach. I could see at least half a dozen people and lots of long fishing poles sticking up all over the boat like a case of bed hair. An idea swirled through my head like the sand between my toes.
"Fishing charter," a voice said behind me.
I jumped. "You shouldn't sneak up on people like that."
"Hard to make noise in sand," Skip said.
"You should try. I might have had a heart attack or something and then you'd have my blood on your hands."
Skip picked up a long lock of hair brushing my shoulder and twisted it in his fingers. He leaned forward just a little and glanced down my shirt. "You look perfectly healthy to me."
I stepped back, hoping to restore my heart rate to something close to healthy.
"One of these days we should talk about last spring," he said. "Maybe over some tequila."
I narrowed my eyes at him. "I thought you would have called me if you wanted to talk. You've had plenty of time since April."
Skip put his hands in the pockets of his cargo shorts and rocked back on bare heels in the sand. He was shirtless as usual. And he wasn't taking my bait.
"Saw you staring at the fishing charter boat," he said.
"I was thinking about something."
"Thinking of teaming up with a local charter and offering package deals? Could be a great add-on to rooms at The Gull."
My heart rate steam-trained up the scale again. That was exactly the idea I'd been formulating, and I didn't appreciate him acting like it was his. The danger of years of slightly-lusty friendship is that you can know a person too well. And they've got your thoughts on speed-dial.
Q: Sounds intriguing! So, what's up next for you?


I am writing a three-book trilogy called Starlight Point that takes place at a summer resort and amusement park. During college, I worked at the amusement park that inspired this series. I met my husband there after a summer romance, so my research is done!
Wow, exciting! Thanks a lot for this peek into THE GULL MOTEL. The book sounds awesome and not to be missed!
Bio:
Amie Denman lives in a small town in her native Ohio with her husband and sons. Her two cats and large yellow Labrador are kind enough to share a sunny office where she lets her imagination run wild. Reading books was her favorite escape as a child, and growing up four houses away from the community library encouraged her addiction. When she's not reading or writing, she enjoys walking and running outside. The helpless victim of a lifetime of curiosity, she's been known to chase fire trucks on her bicycle just to see what's going on. Amie believes that everything is fun: especially roller coasters, wedding cake, and falling in love.
Website and blog:
http://www.amiedenman.com/
Facebook:
http://www.facebook.com/amiedenman1
Twitter:
http://www.twitter.com/amiedenman
Backlist:
GIVEAWAY!!!
TRR is sponsoring a prize! For each comment on this interview, you get one additional chance to win this!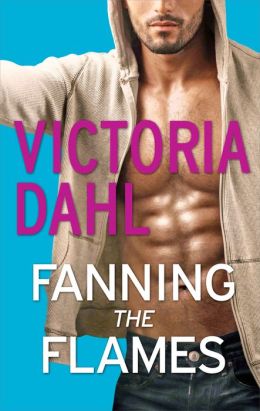 FANNING THE FLAMES by Victoria Dahl (winner's choice of paperback or ebook). International winner!
Mechanics:
Simply
write a comment or a question in the comment box below
to be entered into the giveaways!
Contest ends July 31, 2014.