This paranormal romance is a mesmerizing and intriguing read.

Warding the Crossing has always been Cayden Sinclair's destiny, but when she discovers that her fated Keeper is the hot insomniac who has ignored her for months, she begins to fear failing her destiny. On his way to the top, Clint MacAllen can't allow anything to get in his way, including his attraction for the goth chick at the convenience store. J Milton Development has their own agenda for the crossing and they will spill blood to achieve it.

This steady-to-fast paced plot keeps readers enthralled with suspense, drama, humor and romance. The author describes the scenes and events with well-written details that capture the imagination and the well-orchestrated drama and intrigue keeps the adrenaline pumping throughout the story. The characters are intriguing and charismatic, easily related to and grab the reader's attention from the very beginning.

The attraction between Clint and Cayden radiates from every page and the sex scenes are hot and steamy, but the volatile relationship has sparks flying everywhere. Clint has some issues from his past that colors his concept of what he wants in a girlfriend, not to mention he doesn't believe in magic or witches. Then there is the fact that being on the fast track in his career has put him in the clutches of evil that will do anything to get what they want. Cayden captures the reader's intrest with her strong personality and her inability to control her magic which causes some serious but humorous problems.

The story has some surprising twists and turns to keep the reader on her toes and lots of laughs among all the drama and suspense. I must say that the beginning seemed to start off a little choppy and I wasn't sure I was going to be able to read the book, but it quickly smoothed out and I couldn't put the book down until I had read the last page. Also, this review would not be complete without giving a standing ovation to Nevermore, the talking crow with some snarky dialogue and entertaining antics.
---
BOOK INTERVIEW on May 2014
---
Interview by Laura

Hi Rhea, welcome to The Romance Reviews! THE LEGACY OF BUCHANAN'S CROSSING sounds intriguing. Can't wait to hear all about it!
Q: What is your inspiration for this story?


A rough draft of the book's first scene arose during a session using tarot cards as writing prompts. Here's a link to a blog post I wrote about the process:
http://clarissajohal.blogspot.com/2014/02/mixed-up-tuesday-guest-blogger.html
Q: What is Buchanan's Crossing? It's so central to the story that it seems to be a pivotal character itself. Why is this so?


I think I'll let the book's inscription explain why the Crossing is so important:
There are singular strands of great power that have run through our world since its birth. Here and there, now as then, they cross one another and join. Some crossings are larger, some smaller. Some are quite famous: a henge in The Isles, a mountain in Peru, a region below the ocean off Bermuda. And some, no less potent but perhaps more so, are all but unknown outside of the precious few who ward them.
Warded they must always be. For evil seeks to subvert the divine gifts of love, hope, and faith that flow from them, aware that these can defeat fear, its most favored and potent weapon.
Q: What kind of research did you do in the process of writing this story? Please share an interesting fact or behind the scenes experience.


Because the Warders of Buchanan's Crossing descended from a line of Scottish witches, and I wished my book to have authentic roots, I researched immigration of the Scots to America. Although the first wave settled in the South, later waves (still pre-Revolutionary) settled around the Massachusetts/Connecticut area. Further research revealed a former copper mine in East Granby, CT, which had been used as a prison during the Revolutionary War. I couldn't have imagined a more perfect location! It offers not only fascinating historical backstory for the Crossing itself, but also for the Keeper's talisman, which gelled into a copper ring at that point. The site of the mine/prison remains open to tourists to this day. It's on my list if I ever get out that way
Q: Who is Cayden Sinclair? What kind of person is she?


Cayden's brilliant, creative, and confident. She's as unapologetic of her generous figure as she is her love of goth or being a witch. She's a convenience store clerk, fencing instructor, steampunk engineer, and antique collector/dealer. Estranged from distant parents, she's devoted to her grandmother.
Q: Please tell us more about Clint MacAllen. What demons drive him?


Clint struggles between his intense shame of growing up painfully poor and and his love for the parents who sacrificed much to give him the chance for a better life. He views Cayden in the same light as cigars—lavish but unhealthy to his future. Yet he fights a losing battle against his attraction to her, and the more he learns about her, the more he comes to admire her.
Q: What is the most romantic moment between Clint and Cayden?


There are so many (it's a romance, after all). But this sweet bite from a pivotal scene won't be a spoiler:
He joined her on the blanket and put his arm cautiously around her. She was wound tighter than a bale of insulated wire. "What's wrong? Is it because I passed out last night and left you high and dry?"
Her voice was barely a low whisper, "Not dry, Clint."
That was all it took to get him hard. Jesus, zero to sixty. Her touch high on his thigh was so light through the denim of his jeans, he probably wouldn't have noticed it if his skin hadn't become extremely sensitive. Make that zero to a hundred.
He laid his hand over hers. It trembled. She turned toward him, beautiful eyes open wide, full lips parted. Vulnerable. Whatever the hell he'd done to make her doubt him, he was going to fix it.
Keeping the kiss gentle was a priority. He used only his lips, no tongue, no groping. No matter how badly he ached to touch her everywhere, he kept one arm around her, not too tight. Her mouth was as warm as her hand beneath his was cool, her tongue hot, gingerly tracing his lips. Behind his closed eyes, he could swear he saw sparks shooting up from the fire.
Q: Please tell us about Nevermore, a secondary character in your book, who seems to delight a lot of readers. What made you include a character like his in your story?


Nevermore is a crow Cayden rescued, who then became her familiar. I'm grateful he appeared with Cayden to claim Clint from my dusty files, because I don't think I could have come up with him on my own and he interjects quite a bit of humor into the story.
Q: What's up next for you?


I'm currently working on a romantic suspense with a paranormal twist involving (but not starring) some characters from Finding Grace. I've also got a fantasy trilogy and another stand-alone paranormal (this one with time travel) in the works. If anyone reading possesses the magic to create more time, I hope they leave me a message!
I know what you mean! And your book sounds exciting! Thanks a lot for this peek into THE LEGACY OF BUCHANAN'S CROSSING. The book sounds awesome and not to be missed!
Bio:
Rhea Rhodan resides in Minnetonka, Minnesota and has been telling herself stories since long before she could write. She attended the University of Minnesota with a focus on Journalism, then Brown Institute for Broadcast Journalism. After many adventures, misadventures, and a couple of short marriages, she found the love of her life in Regensburg, Germany, and has been living happily ever after since.
Her stories always had a twist of magic or a touch of the paranormal. Why the romance? Because she believes in happy endings, and helping people imagine them inspires them to create the magic for finding their own.
She welcomes feedback and fan mail :>). You can join her on Facebook, too. Rhea is always happy to meet new friends.
Website and blog:
http://www.rhearhodan.com/
Facebook:
http://www.facebook.com/rhearhodan
Backlist:
GIVEAWAY!!!
TRR is also sponsoring a prize! For each comment on this interview, you get one additional chance to win this!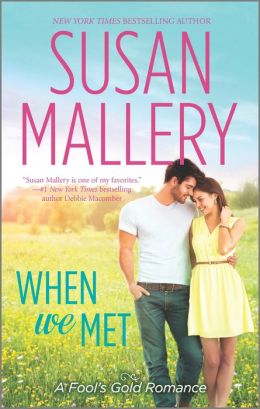 WHEN WE MET by Susan Mallery
(winner's choice of paperback or ebook). International winner!
Mechanics:
Simply
write a comment or a question in the comment box below
to be entered into the giveaways!
Contest ends May 31, 2014.