This book offers so much more than what meets the eye. Sizzlingly sexy? Yes. Wild adventure and steamy risks? Absolutely. But amidst that is a group of complex, three-dimensional characters and a constantly surprising plot that had me gleefully turning pages as
quickly as I could.

Following a crippling heartbreak at the hands of her illustrious employer, Phoebe Scott has determined to make her name and her fortune as an actress on the London stage. When she is given the chance to play a memorable (and notoriously bawdy) supporting role in the Drury
Lane Theatre's final command performance before closing for renovations, she leaps at the chance, not only to showcase her talents, but also to find herself a protector who will see to her career and her financial needs—even if it is means she must see to all of his needs, as well.

Phoebe, disguised as her character, Kitty, sneaks into one of London's most exclusive brothels, in hopes of meeting the infamous Viscount Ludovic DeVere. Known as Devil DeVere, it is rumored that there is no act too depraved, no act so sacrilegious that DeVere has
not tried, and reveled in it. And considering that his wealth is astronomical, it would seem he is the ideal candidate to become Phoebe's protector—until she meets his best friend.

Ned is a widower, still mourning his wife, and still blaming himself for her loss. In town only to secure a house so his daughter can have her first Season, Ned has been dragged along on this night of indulgences by DeVere in the hopes of awakening his adventurous side and freeing him from his self-imposed celibacy. But a few stolen moments with the mysterious masked beauty do far more to stir Ned's passions than any of the naked women on display, and he realizes that he will try nearly anything in order to keep DeVere from breaking her
heart.

Desperate for a new experience, and inspired by Phoebe to make a wager he cannot win, DeVere soon manages to convince Prince George himself to think of a new adventure for him. As a result, DeVere, Ned and Phoebe find themselves sneaking into the King of England's very bedroom, so that DeVere can seduce Phoebe in the royal bed. Ned,
however, refuses to let the only woman who has ever showed a passion equal to his own become a plaything for DeVere—but will he have the courage to step in and take DeVere's place in the King's bed? And will he dare to share all of his darkest fantasies with this daring
beauty? And what will be the consequences for them, not only when they are found, but when Ned realizes that he has given his heart to a woman who still has not told him her real name?

As is no doubt evident, there is an enormous amount of action and intrigue in this one novella. More than that, however, I was struck by the depth of each of the characters. Ned starts off as a model of propriety and responsibility, and perhaps one of the least likely of
men to have such a fierce, fiery wild side. I was delighted to be proven wrong, however, and by the story's conclusion, Ned had completely usurped the role of bad-boy hero in my eyes.

Though I wasn't able to relate as well to Phoebe, I found her history quite intriguing and the way in which her surprising secrets were exposed to Ned heart-wrenching, indeed. Having been unwittingly used as a pawn for so long, Phoebe wants to be able to have some control
over the men who use her, and to gain as much as possible from it. After enduring so much hurt, however, the prospect of actually falling in love with another man is more terrifying than being found naked in the King's bed, and most of her actions can be ascribed to this fear. In
the end, however, there is no denying Ned, or his ingeniously sinful methods of persuasion…

At the center of the mayhem, however, is Viscount DeVere himself. It would have been very easy to make him the stock character of an outlandish rake in order to move the plot along. However, there is so much more going on behind the surface of DeVere's character that I am starving to see more of him. The hints dropped throughout the book about his past history with Ned—and, interestingly, with Ned's cousin-by-marriage, Diana—shows that there is far more than meets the eye with DeVere. His quest to find a wager he cannot win was charmingly absurd, but also quietly pathetic in a way that made me feel much more for him than I ever expected to do, and I can't wait to see what mayhem he brews up next.

There was a great deal of exposition at this book's opening, which made it a little slow to start. Once all the character's back-stories had been explained and their relationships outlined, the story took off and became thoroughly engrossing. The absurdity of DeVere's bet lent a terrific bit of humor to a story that, in fact, had a lot of emotion and characters who have endured a great deal of suffering before finding each other. I loved the way the layers of Ned's stoic façade and Phoebe's veil of lies were peeled away over the course of their escapades, leaving nothing but fiery passion and lasting love between them.

It is clear that Victoria Vane was reveling in the historic setting of this book, and the addition of factual details and real-world characters made that setting come to life, as vital a part of the book as the flesh-and-blood characters who populate it. I'm eager to see the twists and turns that wait in coming books, and just what fate life holds in store for the Devil DeVere. If this book was any indication, it will be nothing I expected—and yet something I will thoroughly enjoy!

---
BOOK INTERVIEW on May 2012
---
Interview by Bridget

Victoria, thank you for spending time with us this month to talk about your latest release, A WILD NIGHT'S BRIDE!
Q: A WILD NIGHT'S BRIDE is a fun, riotous romp! What inspired this story, especially the dare?


I love the Georgian era for its truly riotous living. It was not only a golden age for prostitution, but the Georgians were extremely heavy drinkers and would wager on absolutely anything. Shockingly, most of the worst offenders were amongst the uppermost elite in society!
As far as inspiration for the story itself goes, there is certainly a hint of the 2009 film, THE HANGOVER, albeit in a 18th century setting, but everything I write also has some true historical basis. In AWNB, it is actually Prince George (the future George IV) who proposes the outrageous challenge when DeVere drops the gauntlet. In real life, George was raised by puritanical parents and ruled by various tutors and sub-governors who kept him on leading strings far longer than one would expect of an heir to the throne. When he finally did achieve some personal independence at around age 18, he completely rebelled against the King and Queen by taking up with almost anyone who opposed them! Thus, I could easily envision, George proposing anything shocking to retaliate against his parents, and his cronies would certainly have supported him.
Q: I understand this is the first book of a series. Do tell us more. What serves as your inspiration? What's the common thread in all the books in the series?


The series is comprised of four inter-connected novellas involving six main characters and three separate romances. DeVere is the single character who connects everyone else. This series is also very much character driven with the machinating rakehell, Ludovic, "the devil" Viscount DeVere at the center of it all. He's one of those dream characters that may come to a writer once in a lifetime, so one book became two, two became three, and then four. (I was determined to milk every ounce out of him that I could! LOL!)
The first two stories, A WILD NIGHT'S BRIDE and THE VIRGIN HUNTRESS are both comedic in nature, but the tone drastically changes with THE DEVIL YOU KNOW which is dark and erotic with elements of mystery and intrigue. Another transition occurs with THE DEVIL'S MATCH which falls somewhere in between the other books with both light and dark undertones. Here's a brief introduction to the characters in the order they appear:
Viscount Ludovic "the Devil" DeVere:
Devious and machinating rakehell, brother to Hew, godfather to Vesta
Sir Edward "Ned" Chambers :
Respectable and celibate widower with a powerful right hook, father to Vesta, best friend to DeVere
Phoebe Scott "alias Kitty Willis":
Struggling actress with a past, in need of a protector
Lady Vesta Chambers:
18-year-old daughter of Sir Edward, spoiled, passionate, willful
Captain Hewett DeVere:
War hero younger brother to the viscount, his opposite in every way
Baroness Diana Palmerston-Wriothesley:
Godmother to Vesta, beautiful but embittered widow with several closely guarded secrets
Book blurbs and excerpts are available on my website:
http://authorvictoriavane.com
Q: In A WILD NIGHT'S BRIDE, we have our heroine Phoebe, who is an actress. What made you give Phoebe that particular profession? Please also tell us more about her.


While realistic and multi-layered male characters have always come effortless to me, until this series, I have always struggled a bit with my female characters. I had this trouble in the beginning with Phoebe. I just couldn't figure out who she really was. In my first draft she really was more of a Covent Garden strumpet but that just didn't seem to work. She needed more depth and an interesting back story. I finally nailed her down after reading about Prince George's first notorious affair with the Georgian actress Mary Robinson. Although I mention this affair between George and Mary in AWNB, I also used it as the inspiration for Phoebe.
Q: What is the first thing about Phoebe that capture's Ned's attention and what about her makes him become such a dominant hero?


Phoebe, like Ned, appears very out of place at the venue of their initial meeting (an infamous brothel). Although celibate for three years, Ned has no desire to consort with the prostitutes and can't wait for the night to be over. Phoebe really doesn't want to be there either, but has come for the sole purpose of finding a benefactor. The man she has in mind is coincidentally, Ned's best friend DeVere. Phoebe is immediately attracted to Ned for his gentlemanly conduct and Ned is intrigued by this bemasked woman who he instinctively knows is not who she is pretending to be.
Q: For Phoebe, what is it about Ned that drew her? What makes him a worthy hero?


It would have to be the respect he shows her and his natural chivalry.
Q: What is your favorite scene in this book?


There are so very many fun scenes (some are very naughty!) but this is one of my favorites:
DeVere, on the other hand, evinced no such qualms. He had already loosened his cravat and was stripping off his coat.
"As I said earlier, there is no need," Phoebe insisted. "A couple of buttons and a raised petticoat are all the business requires."
"How delightfully unromantic you are, my dear!" He chuckled. "But while most men would be charmed to comply with your simple wishes, I have quite another game in mind. One that most definitely requires you to disrobe."
"But what if I don't want to?"
"Oh but you will," he said with a smug smile.
She glared. "You are very sure of yourself!"
He studied his buffed fingernails. "I am sure of Ned. Thus, we must put on a convincing show."
Her brows came together in a deep scowl. "What do you mean? What has Ned to do with this?"
"Everything. And at any moment, I expect him to burst through that door like a raging bull."
Q: You have created an interesting secondary character in Viscount DeVere, Ned's long-time friend. Can you tell us a little bit about the inspiration for his character? What it is like to write such a complicated character?


As I mentioned earlier, his character just came to me and all four stories evolved from him. DeVere was actually loosely inspired by a Georgian bad- boy Frederick 6th Baron Baltimore. I actually use Baltimore in the story as DeVere has perversely chosen to model his life after the ignoble Lord Baltimore, but where Baltimore was a truly irredeemable rake (in real life he kept a private harem and was later tried and acquitted for abducting and raping a young Quaker woman), DeVere is multi-layered and definitely hero-worthy (with the right woman of course!) I enjoyed revealing the different facets of his character as well as his back story throughout the four books.
Q: I found the relationship between DeVere and Ned just as interesting as Ned's relationship with Phoebe. What do you think these two men see in each other? What was it like creating a pair like them?


Their relationship is somewhat explained throughout the four books but basically, Ned sees the true DeVere that is hidden from everyone else and DeVere gravitates to Ned for his honesty and integrity. Ned is, in effect, the good angel that sits on his shoulder. They really are perfect foils for one another.
In THE DEVIL YOU KNOW (book 3), Ned endeavors to explain to Diana what makes DeVere tick:
"It's not that he's without honor, Diana, but you must understand DeVere only follows his own code." Ned gave her a meaningful look and hoisted himself gracefully into the saddle. "I hope you'll take extreme care in any dealings with him. He is ruthless and calculating when he chooses to be and has a strong predilection to manipulate and exploit the vulnerabilities of others — when it suits his purpose. He just can't help himself. It's not that he's evil incarnate, or anything like that. It's just he has low tolerance for weakness, incompetence, or buffoonery."
Diana's lifted her brow. "You know I am no fool, dear Edward. I take full responsibility for my actions and have already made clear what I am willing and
not
willing to sacrifice. You are truly like night and day, you and he," she remarked. "I marvel that you've maintained such a close friendship all these years."
Edward shrugged. "We are enough alike in matters of import. Though I may not approve of all his actions, how he chooses to live is his business. I shall never meddle."
Q: I loved how vibrant you made the world of Georgian England and the Drury Lane Theatre in the book. What drew you to this time period and how did your research influence the story itself?


As I mentioned earlier, I have always been drawn to the 18th century. My first novel THE HIGHEST STAKES, written as Emery Lee is set in the Georgian turf world and my second novel FORTUNE'S SON, is set in the gaming world. In my research for both of these books, I explored all aspects of 18th century England to include not only horseracing and gaming, but politics, art, literature, music, and the theatre. I feel almost as if I lived there and make it my goal as a writer to give the reader that same sense by bringing it all vividly to life.
Q: Were you surprised by anything you turned up in your research? Please share with us a fun fact that you've uncovered.


I mentioned that Ned and Phoebe first meet in a high end brothel in St James, Westminster, called King's Place. This was a real place, one of several owned by Charlotte Hayes a shrewd entrepreneur who was once a famed courtesan in her own right. When Mrs. Hayes began losing valuable business to competitors, she decided to host an exclusive "subscription-only" party (read orgy) that she called the Otaheitian Feast of Venus, the details of which are recorded in Nocturnal Revels, an anonymous book written in 1779 largely about Georgian prostitutes and brothels. I used this event in my story - with my own twist, of course.
Q: We're so excited to see that the next book would feature Viscount DeVere! Please give us a sneak peek.


Actually, I hate to disappoint, but I have a story to tell about this series. Book #2 was supposed to have been THE DEVIL YOU KNOW, the darkly erotic story of DeVere and Diana, but after writing and submitting it to my editor, I just knew it was all wrong – not the story itself, but the tone just wasn't right to follow AWNB.
At the same time, I had also been wanting to spin off Vesta and Hew's story which was a secondary romance in TDYK but just couldn't think how to do it. Then, overnight it came to me. I was on fire with this idea and asked my editor to put TDYK on hold (when it was already scheduled for a June 29th release.) She agreed to do so IF I could write THE VIRGIN HUNTRESS in 21 days. I did it in 13! THE VIRGIN HUNTRESS then took the #2 spot and TDTK was moved to July.
I am sooo happy about this because TVH is another light-hearted erotic romance and perfect to follow AWNB. It also turned out to be my personal favorite of the novellas in this series. Additionally, I had so very much to say about Diana and DeVere that they ended up with 2 books instead of just one!
THE VIRGIN HUNTRESS Excerpt:
Do you never think of your own legacy?" Hew asked.
"It's far too early, and I'm far too sober to contemplate such a topic. I generally prefer a couple bottles of port before waxing philosophic."
"But what if you had not escaped the Turks? We are the last of the DeVeres, and you live recklessly. What if I'd been killed at Cowpens rather than just wounded?"
"Now that's a highly disconcerting thought."
"Precisely, Vic. You should wed. Just because one woman turned out to be a shameless grasping jade—"
Ludovic threw down his periodical with a scowl. "And where ever an ass falls; there he will never fall again."
"I indeed marvel at that, Vic." Hew beckoned the hovering footman for more coffee.
"That I have remained unwed?"
"No, that you are still an ass." Hew grinned. "Although yet an unmated ass."
"And that is precisely the state I intend to maintain. A man who lives alone is a god unto himself."
"And a devil unto others." Hew gave an exasperated sigh. Ludovic was six and thirty, Hew's senior by eight years. With vast properties and a healthy fortune, he was expected to have settled down long ago, but following a jilt on the eve of his engagement, he had begun a downward spiral of drinking and whoring from which he'd never emerged. Now, over a dozen years later, it was his chosen lifestyle: drinking, whoring, and horses, that was. Ludovic's one true, unwavering passion was his racing stud.
Hew studied his brother for a long, silent moment. "How can you wish to continue on indefinitely in this empty life you lead? You have an obligation, Vic. You should give the matter some serious reflection."
Ludovic tipped his chair back with a devious grin. "Actually, dear brother, I already have."
"What do you mean?" Hew asked. "You are going to take a wife at last?"
"No, dear boy." Ludovic chuckled. "You are."
Q: We're okay to wait one more book for DeVere's book. I'm sure it'll be worth it! Aside from this series, what's up next for you?


I just got word last week of a contract from another publisher on my dark erotic story (also Georgian era) called DANGEROUS DESIGNS. After that I have a fabulous idea for a historical paranormal romance of the time slip variety – think Susanna Kearsley or Ciji Ware but with erotic undertones.
Those certainly sound exciting! Thanks so very much for this opportunity--I can't wait to read more soon!


Bio:
A lover of history and deeply romantic stories, Victoria combines these elements to craft romantic historical novels and novellas for a mature reading audience. Her writing influences are Georgette Heyer for fabulous witty dialogue and over the top characters, Robin Schone , Sylvia Day, and Charlotte Featherstone for beautifully crafted prose in stories with deep sensuality, and Lila DiPasqua for creative vision in melding history with eroticism. Ms. Vane also writes award nominated romantic historical fiction as Emery Lee
http://authoremerylee.com
Website:
http://authorvictoriavane.com
Author blogs:
http:victoriavaen.wordpress.com
,
http://georgianjunkie.com
Facebook: Author Victoria Vane or Author Emery Lee
Twitter :
@authoremerylee
Email: victoria.vane@hotmail.com
Backlist:
Emery Lee Titles (romantic historical fiction):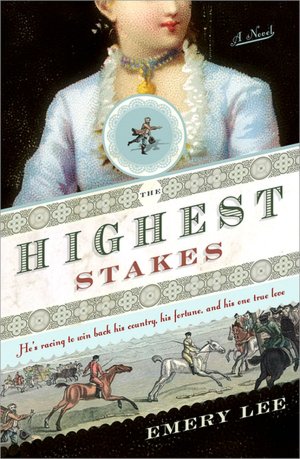 Available at
Amazon
Available at
Amazon
VICTORIA VANE Titles (erotic historical romance)
Available at
Ellora's Cave
Available at
Breathless Press
FORTHCOMING TITLES
THE VIRGIN HUNTRESS, Breathless Press, 6/29/12
THE DEVIL YOU KNOW- Breathless Press, 7/27/12
THE DEVIL'S MATCH - Breathless Press 8/24/12
DANGEROUS DESIGNS- TBA
GIVEAWAYS!!!
Victoria Vane is giving away
1 ebook download of A WILD NIGHT'S BRIDE!
Mechanics:
Simply
write a comment or ask a question in the comment box below
to be entered into the giveaway!
ADDITIONAL GIVEAWAY!!!
For all Featured Book Interviews, TRR is sponsoring a prize!
Each comment you make in the following interviews:
Invitation to Scandal by Bronwen Evans
Delighting in Your Company by Blair McDowell
Becoming sage by Kasi Alexander
A Wild Night's Bride by Victoria Vane
give you one additional point
EACH
to win this prize:
LETHAL RIDER by Larissa Ione (paperback) – International winner!
Contest ends May 31.