---
SUMMARY
---
[Ménage Amour: Erotic Ménage a Trois Romance, M/M/F with M/M, HEA]
Keaton Gates and Ashland Lance are lovers and musicians in a band called Endymion. Keaton believes there is something missing, not only from the sound of their music, but also in their lives. When he hears Momo Willows singing Endymion's signature song, he knows she's the muse he's been waiting for.
At first, Ash Lance is jealous of the new girl in Keaton's life until he meets her. Momo is unlike anyone he's ever met, and they soon discover that they connect on many levels. But he's reluctant to take her away from Keaton, just as Momo refuses to come between them.
Keaton is quick to assure them he wants all three of them to learn to be in a ménage relationship, but as they learn how to live and love together, another threat is moving between them, threatening to take Momo away…forever.
A Siren Erotic Romance
---
BOOK INTERVIEW on July 2012
---
Hi Beth, glad you could drop by The Romance Reviews and tell us all about IN A CHORD.
Q: Where did you get your inspiration for IN A CHORD?


The inspiration for IN A CHORD actually came from listening to a song title "Awake and Alive" by Skillet. The song opens with a violin and the contrast between it and the heavy rock was really cool. I immediately pictured this cute girl with pink tinted pigtails playing.
Q: What kind of research did you do to write about musicians? Please share with us an interesting fact or experience in the course of your research.


One of my ex-boyfriends is a musician in Nashville. On his second album I co-wrote a song with him titled "Don't Talk About Luv". We had a very tumultuous relationship but somehow managed to stay very good friends.
When I thought of this story I contacted him for all the musical details, and he even provided a few ideas on the ending.
Q: Wow, that's amazing! Your heroine is named Momo. What a unique name! Why did you name her thus? What does her name mean? Do tell us more about her.


I adore manga (Japanese graphic novel) and about ten years ago one series I read was titled "Peach Girl". The main character's name was Momo and in Japanese, that means peach. When I started fleshing out IN A CHORD, I had pictured the girl as Asian, so I thought it perfect to name her Momo.
Also, her last name (Willows) is a nod to the departure of the Catherine Willows character on CSI.
Q: Who is Keaton Gates? How did he come to be a musician and Ash's lover? What in his past shaped him to be the man that he is today?


I always saw Keaton as that boy in high school that no one got. The one who always dressed in black, smoked on the hill, and marched to his own drummer. The boy that good little girls (like me) were always afraid to talk to him but secretly wished he'd notice her. You know the one? Then I started to think about who would be the one to understand such a boy.
On the first draft of IN A CHORD, Ash wasn't his lover, but the story floundered and as I started to deconstruct it I realized it was because Ash needed to be Keaton's other half. They were two sides to the same coin.
Q: What about Ashland Lance? Tell us more about him. What makes him a swoon worthy hero?


Ash comes from a wealthy family. His father wanted him to be a doctor but Ash is afraid of needles (the reason he doesn't have any tattoos). Ash has drive and he's organized, he's what made Keaton focus on becoming a good musician. I think without Ash, Keaton would have ended up working at a car wash, waxing cars for the rest of his life.
Q: What's the most romantic thing either or both of the guys did for Momo?


Build the walls on their bedroom. I wanted Momo to give them a test and the two guys rose to the challenge.
Q: What's your favorite scene?


I really like when Ash takes Momo back to his and Keaton's place. Ash thinks that Momo is Keaton's girl, but he's crushing on her bad. Still, he won't cross that barrier. The entire scene is tender but full of angst because they want each other but they won't hurt Keaton. I really like that. And I think for a ménage there has to be that recognition, that there are three people involved and emotions aren't always black and white.
Also, I think the funniest scene is when Momo moves in and the two men have to adjust to living with a female, and vice versa. In one scene Ash is helping her unload the groceries and he holds up a box of tampons. She warns him never eat up the chocolate ice cream!
Q: Which character is the hardest to write? Why?


None of them were hard to write because each character had their unique voice. However, when writing a ménage, it's very easy to lose one person within the story. So making sure Keaton and Ash had their moments were important. The hardest aspect for me was to write a mystery and not have it be too obvious who the bad guy was. I like trying to figure things out.
Q: IN A CHORD is not your first book with ménage a trois, but what draws you to write them? What's the most difficult part of writing a ménage a trois?


As a writer, it's a challenge to have two Alpha males be in harmony together and still have each man be an integral part of the relationship.
I love the dynamics of two men working to make a relationship work, whether or not they are involved together. And for me, there has to be a reason for the ménage. For IN A CHORD, it was the music drawing them together and I think Momo is the anchor that solidifies their foundation.
Q: What's up next for you?


Writing! Lots and lots of writing. I'm currently working on three projects right now and I'm still wondering how I decided that was a good idea. But I have personal goals I want to meet and so pounding the keyboard it is for the rest of year.
Wow, we're honoured that you take this time out to talk with us about IN A CHORD, considering you're so busy. Good luck on the writing, and we expect to see more good things from you.

Bio:
I am a full time writer and stay at home mom, which means I watch a lot of Disney. Over and over and over again. I hate washing dishes but I love cooking. I hate washing clothes but I love wearing them. I try to write characters who aren't cookie cutters, ones who are full of angst but where love redeems them. I push myself to write complicated situations that I have no idea how to resolve, forcing me to think outside the box. Music inspires me and each story their own signature song. I hate people who don't pick up their dog's crap in public places and I really hate people who are rude and condescending. I especially hate discrimination in all and every form. The perfect birthday presents are gift certificates to bookstores. And I love to hear from readers. I'm really easy to find on Facebook or Twitter.
Website:
http://www.bethdcarter.com
Blog:
http://bethdcarter.blogspot.com/
Facebook:
http://www.facebook.com/bethdcarterauthor
Twitter: @BethDCarter
Backlist:
Giveaway!
Beth D. Carter is giving away
1 download of IN A CHORD!
Mechanics:
Simply
write a comment or ask a question in the comment box below
to be entered into the giveaway!
ADDITIONAL GIVEAWAY!!!
For all Featured Book Interviews, TRR is sponsoring a prize!
Each comment you make on the following featured book interviews:
Eos (The Samsara Chronicles 1) by Gabriella Bradley and Diana Kemp
Dudes Down Under
In A Chord
gives you one additional point each to win this prize: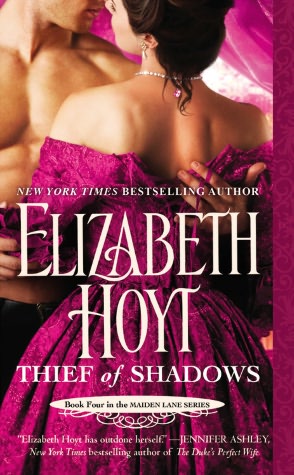 THIEF OF SHADOWS by Elizabeth Hoyt (paperback) –
Check out TRR's Review!
– International winner!
Contest ends July 31.