You know when you sit down to read a story and you quickly realize that it surpasses all of your expectations? When that happens to me, I end up devouring the book so quickly I get upset with myself because it's over. I tell myself time and time again that I am going to start savoring my books--reading a bit at a time to make them last. But I tell you, when I read ALPHA ME NOT, I did it again. I read it one sitting and was ticked with myself because I just couldn't put it down. In my defense though, I don't think you could blame me. I mean, ALPHA ME NOT was the perfect blend of suspense and romance, sex and story, and Jianne Carlo gave me characters that I absolutely loved.

ALPHA ME NOT is the third story in the White Wolf series, and features Susie Wolf--the youngest of the White Clan. She's a wolf shifter who wants nothing to do with her wolf. In fact, she moved from Michigan to Florida to get away from her wolf family. She wants to go to school, have a career, and be in charge of her life. She certainly doesn't want to deal with alpha males who will try to control her life. Well, you know what they say about the best-laid plans.

Enter Joe Huroq, mercenary and Susie's sexy new neighbor. He's not looking for a relationship either, but after an unusual set of circumstances, he ends up inviting Susie to stay with him, which lands her in Joe's bed. They agree to a no strings affair--but I bet you can imagine how that works out.

As this happens though, weird things start happening around them. Kids go missing, Joe's past comes to haunt him, and Susie starts to show powers of her wolf.

ALPHA ME NOT was just perfect. It had the perfect mix of suspenseful plot and the burgeoning romance between Susie and Joe. The plot had so many twists and turns that I was on the edge of my seat and biting my nails trying to figure it all out.

And don't get me started on how incredibly sexy Joe was in this story. I just loved how his world turned upside down from the moment he saw Susie--the fact that she was buck naked probably should have been a clue for him.

Overall, ALPHA ME NOT was a fast-paced, intense romantic suspense that did not disappoint. This is the first book in White Wolf series that I've had the pleasure to read, but it will not be my last. I plan on getting the first two books as soon as possible.

Jianne Carlo is fast becoming one of my favorite erotic authors because she writes a great story. The fact that there is sizzling hot sex in it as well is so much the better.

---
BOOK INTERVIEW on September 2012
---
Interview by Rho

Hi Jianne, it's such a pleasure to speak with you again. I can't wait to find out more about your newest release, ALPHA ME NOT. It was such a thrilling book, I am looking forward to getting more insights into it. .
Q: Where did you get the idea for the White Wolf Series?


It was actually a given. I had just published my first book, Manacled in Monaco, and I received an email from Treva, a member of the 'QUAD' - the founders of Loose-Id, inviting me to contribute to their four year anniversary.
Honestly, I thought it was a joke, and forwarded the email to my editor who assured me it was an honour. The theme of the anniversary (since it revolved around the date 07/04) was red, white, and blue. Foolishly, I volunteered for white – yeah right – an erotic tale focused on the virgin word 'white'.
I woke up one morning with the opening lake scene of White Wolf in my head and just started writing. At that time, I figured it was a single title book. Go figure.
Q: The White family has traditions deeply rooted in Native American culture. What kind of research went to into bringing those traditions to the series?


Cultures fascinate me, all of them, but those of the Native Americans of both Canada and the U.S. are rooted in nature, in Mother Earth, and I am particularly drawn to their harmonious view of the planet. For a long time, I've wanted to explore those traditions and White Wolf gave me the excuse to do so – it was actually WORK – LOL.
Q: In ALPHA ME NOT, Susie White leaves her family to move to Florida. Why was that move important for Susie's character development?


I grew up on a 60x40 island in the Caribbean. Like a small town, a tiny island defines who you are by the time you've reached adolescence and any opportunity for change comes from moving out of that environment.
Susie came to adulthood in a town with a population of less than 5000 and her family had a reputation of being wild, drunk, and dangerous. Susie had all of those qualities, but if she explored them it would only bring shame on her family, so she had to move to grow into herself. Know what I mean?
Q: Yeah. Joe Huroq has a not-so-pretty past, but his experiences obviously shaped him into the man we meet in ALPHA ME NOT. Please give us some insights to understanding his character better.


Other authors think I'm nuts, but I never know the character until I start writing his tale, and then I'm obsessed. It sounds crazy, I know, but Joe got into my head and he and Susie wrote the tale. I had no idea about his past until I started ALPHA ME NOT. I had a grandmother who absolutely adored me – though I remember little of her – and I think she became Joe's gran-gran and Mama Maria sort of intertwined. Did I answer your question?
Q: No worries, Jianne. It seems we'll have to read the book to know more about Joe, but that's the best kind of knowing a hero, so I don't believe we'll miss out when we do! Now, I absolutely was enthralled with the plot in ALPHA ME NOT. There were so many twists and turns, I really could not put it down. But, the story also had the steamy eroticism I love. How do you go about finding that perfect balance between plot and sex in your stories?


Hey, I'm always accused of having too much plot – so I really love that you liked Alpha's twists and found the balance perfect.
The truth is that when I begin a book I never know who's done it and how the actual physical aspect of the romance will evolve. My characters dictate it to me – truly - and I know that sounds totally insane. I refused my first offer from a publisher because they wanted me to 'up' the sex in the book and I knew my character would never go there.
I have been blessed with an amazing talented and wonderfully supportive editor in Maryam Salim who keeps me in check and makes sure my stories ride that fine edge between suspense and romance.
One review of White Wolf, the first book in the series, said it was carefully plotted. I almost choked on that one. Until the third to last chapter, I had NO idea who the murderer was.
So to answer your question – no clue.
Q: Speaking of plot, ALPHA ME NOT had one that was suspenseful but also broached a disturbing subject matter. How did you come up with the idea for the story?


Topical events have a way of working into my stories and that's what happened with not only Alpha Me Not but also Carnal in Cannes. I had always intended the heroine of Carnal to be Haitian, but as I was about halfway through the story that devastating earthquake happened – I threw out everything I'd written and started from scratch. The same thing occurred with Alpha.
I don't want to give the plot away so I won't expound anymore.
Q: No problem! Susie and Joe on the surface appear to be completely wrong for each other--two headstrong people trying to avoid relationships at all cost--but they end up being a perfect match. What is it about them that makes them such a great couple?


You'd never guess that me and my DH were meant as a couple because we're so wrong for each other. He's Dutch and structured, I'm an island girl who grooves with the flow. Opposites do attract and that's why Joe and Susie are perfect mates.
Q: There was this scene in ALPHA ME NOT where Joe meets up with some neighbour children--three young girls who obviously adore him as much as he does them. I loved that whole interaction with the girls--especially with the youngest girl who sucks her thumb. I completely went gaga for Joe at that point. It was definitely one of my favourite scenes in the book. Please share with us your favourite scene in the book and tell us why it's your favourite.


Who doesn't love and adore a toddler? For me, the ages between zero and six are precious. My dh is one of those austere, Germanic types, but he totally fell apart when his boys were born and they wrapped him good and tight during that 'innocent' period.
Joe was an only child and he wanted family desperately. No way could he resist the lure of those adorable girls. I so wish I'd had a daughter. Often, when my sons were young, I offered them every Barbie lure on the planet. They just spiked me with this are-you-nuts-mom look. Sigh. So, I make up for it by inventing my perfect granddaughter over and over again.
I don't know that I have a favourite scene, but two stick out in my mind when I think of ALPHA ME NOT.
The one when Joe recites the poem Barb's requested – it's probably the most difficult scene I've ever written except for the one in D is for Desire when Harriet goes into labour – and handling that whole ordeal stumped me for a long time.
The other is this one:
Susie unsnapped her seat belt. "I didn't realize you're a mercenary too."
"Was. Yeah. Joe needed to get out of Hallie and so did I. It was either the military or private soldiering. Long story. Tell you the whole entire thing, including all the details Joe'd prefer I left out, if you sit on my lap during the telling." Tate winked at Susie.
She rolled her eyes. "You don't fool me any, Tate Gunn. And I don't for a minute believe that's your real name, by the way. You're a puppy dog. You just need regular scratching and a sound flea and tick bath every so often."
Q: I know that you write paranormal and contemporary romances as well as some historical ones as well. Which sub-genre do you find is easiest to write? Why is that?


I like having two stories going at the same time, but the only way I can separate them mentally is by having them in different time periods. So, I have one historical and one contemporary going all the time. Writing contemporary is easy because you don't have to worry about the facts, and writing paranormal is the best of all genres because you can make your own rules. Contemporary paranormal is the easiest to write, but not necessarily my favourite. There's nothing I love more than a great Viking tale.
Q: I've read many of your books now (I'm working my way through your backlist as I speak), and I've noticed that your heroines are all strong in their own way. No wilting flowers in the bunch. I love that! What motivates you to bring those women of strength to the page?


Nothing irritates me more than a simpering female. I am the only girl in a family of four and the eldest. I have three sons, nine nephews, and two nieces. If you're not strong, you get lost in all the testosterone; I don't know any weak women.
Q: What lies ahead for the White Wolf series?


Chad and Lizzie's tale and then I'm going to solve all the hanging questions with one more book. But my editor really thinks that Tate deserves his own story…
Q: We can't wait! So what is next for Jianne Carlo? Please share with us any upcoming projects that you'd like for us know about.


Malice Striker, the first book in the Viking Vengeance trilogy, releases on September 7, 2012. The other two tales in the series, Death Blow and Vengeance Hammer, are scheduled for publication later this year.
Shoot, I hate endings and I'm facing two – the end of the Hades Squad and the end of the White Wolf series. No way I can end those two without starting at least one more series.
During my fighter jet/35th anniversary vacation, I started two new books, but I need to know where they're going, and right now I have no clue. Both are paranormal military contemporaries, but kind of insanely skewed. I've also started a new historical – a regency paranormal.
There are a few tales that I've started but never finished and my DH has dared me not to begin any more stories until those are done. So I intend to finish, Rockin' Around A Christmas Cowboy, That Tantalizing Lick, and Catt-Nipped before the end of 2012.
Of course, I can't help what pops into my head, so before I even look at the above, I intend to write the tale of this amazing, desperate hero who insists he needs to be heard. He's an injured SEAL, his name is Torch, and he's decided the title of his book is 'Torch Me'.
Wow, amazing! Jianne, thanks so much for giving us this in depth look at your latest book, ALPHA ME NOT. I truly appreciate you taking the time out your schedule to indulge my fan-girl questions. :)
Bio:
Award winning, author Jianne Carlo's motto is simple: Alpha Me Please.
While strong heroines, exotic locations, and cultural differences are her forte, she goes weak in the knees and salivates for warriors of any type – rebels, SEALs, Vikings, and bad-ass mercenaries. Send her a man with an attitude and she'll find the right woman to tame him.
Jianne's writing career began in 2008, and since then she's been lucky enough to have over twenty books published. Most of her books are TOP PICKs and several have been nominated for and won numerous awards and prizes.
Nothing makes Jianne's day more than an email from someone who's read one of her books. So far, she's received emails from almost every continent on the planet. Almost…
Website:
http://www.jiannecarlo.com
Blog:
http://www.jiannecarlo.com/WordPressBlog/
Facebook:
https://www.facebook.com/Jianne123
Twitter:
https://twitter.com/jiannecarlo
Backlist: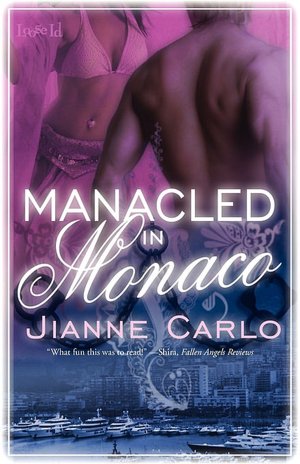 GIVEAWAY!
Jianne Carlo is giving away
1 digital copy of WHITE WOLF!
Mechanics:
Simply
write a comment or ask a question in the comment box below
to be entered into the giveaway!
ADDITIONAL GIVEAWAY!!!
For all Featured Book Interviews, TRR is sponsoring a prize!
Each comment you make on the following featured book interviews:
Mark of the Witch by Maggie Shayne
Meant to Be by Karen Stivali
Alpha Me Not by Jianne Carlo
gives you one additional point each to win this prize: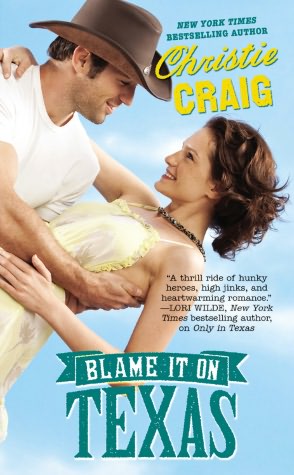 BLAME IT ON TEXAS by Christie Craig (paperback) – International winner!
Contest ends September 30.