Can you really protect your heart when you're already willing to completely trust somebody with your body?

Dom Michael Dayton has already been married and divorced once. He's going to be much more cautious with his heart next time. He knows what he wants in a future relationship and in the bedroom. Sydney Wallace knows she's submissive when it comes to sex, but she's extremely adventurous in everything else life has to offer. She refuses to be controlled by another man like her former master.

Michael is an excellent character with strong communication skills, a powerful body, and an incredibly insightful mind. He always pays attention to every detail about his sub making it his sexiest trait. Sydney was a strong woman physically, and she loved a good outdoor adventure. Unfortunately, after letting her last master completely control her life, she's very hesitant to get involved in a new relationship and prefers just to play with other dominants. The focus of the story was on breaking down barriers for two people who both had prior bad relationships, and who were very determined to be much more careful the next time around. They both knew what they wanted out of their lives, and neither of them was willing to compromise.

Fortunately, what they both wanted and needed was each other. They discovered this by talking through their issues and desires, with these conversations being instigated by Michael. We definitely got to know the characters well enough through their thoughts and interactions with others, but the majority of their time together was actually spent doing scenes. I would have liked to have seen them spend more time together talking about something other than the scene. There were some brief conversations, but not enough to really buy the concept of them falling in love with each other. However, Michael's comments and approach to life convinced me that they would get their happy ending, which we'll hopefully see in a future book in the series.

The sex was pretty heavily laced with moderate pain including heavy flogging, pinching, slapping, and spanking along with bondage and ball-gags. Overall, I enjoyed this extremely erotic story with an incredibly sexy alpha male who knows how to communicate. If you enjoy stories that get you hot and bothered with heavy elements of S&M, this will definitely do the trick.

---
BOOK INTERVIEW on July 2013
---
Interview by Kris

Hi Sierra, welcome to The Romance Reviews! Can't wait to hear more about the books in the Mastered series.
Q: What was your inspiration for the Mastered series? Is there an overall series arc? Please tell us more about the series.


A strong, vibrant alpha male always makes my heart race. Of course, to me, part of what makes an alpha male so delicious is his manners. He's going to be relentless in who he is and going after what he wants (our heroine!), but he's always worthy of respect.
The
Mastered series
has six delicious alpha males, all Doms. And the last book of the series will feature Master Damien—a Dom's Dom.
I also love the Colorado Rockies. And honestly, the series idea was conceived with the first book, With This Collar, in mind. I'd been to a friend's wedding at a spectacular mountain retreat in Winter Park, Colorado. Several of my friends were also invited. And none of us had ever met the groom. It was spectacular! The only gift we were asked to bring was a candle, so that the "light" of all our friendships would light the way to their future. As they exchanged vows, a lovely snowfall began, not a heavy one, just light flakes that glittered like fairy dust. It was magic.
But I am a writer! So as I'm standing there in the living room, my mind is putting together all kinds of different scenarios. What if there's more to the wedding than meets the eye? What if the groom were a Dom? What if the heroine (Julia) was shocked by the ceremony?
The fabulous home became the Den. (Of course, we didn't get to go to the basement, so I had fun wondering what was behind that closed door!)
Then I was curious about who owned the home. What if he were larger than life? And what other kinds of events might happen at the house? One by one, details emerged, and I played on them. I figured the Den would need a caretaker, and the to-die-for Gregorio was conceived.
Master Damien and Gregorio appear in all the books, and so does the Den. I'd LOVE to visit that place.
Q: You're making our mouths water. It all sounds so delicious! Anyway, to get back, OVER THE LINE is the 3rd book in the series. Which character or situation triggered or inspired you to write this story? Or, to state this question another way: How did this story come to you?


OVER THE LINE was a ton of fun to write. The area around the Den has a number of ranches, and oh, my, I love cowboys. (Yes, in high school, I dated one!) I spent an entire summer following the local rodeo circuit. My best friend at the time was a barrel racer, and I showed up at her events to cheer her. I've never forgotten those days—the dances, the excitement, the thrill.
A couple of summers ago, I spent some time up near Grand Lake, Fraser, Winter Park, and when I realised they had excellent ranches, well… I find cowboy hats and men who tip their hats simply irresistible.
Q: Heroine Sydney Wallace fears only one thing—being tied down. What was in her past that made her this way? Please tell us more about how Sydney came to be the woman she is today.


Sydney has a lot in common with most of my heroines. She knows her own mind and is accomplished in her own way. She's strong and independent and doesn't need a man to complete her. Like most of my characters, she was inspired, in part, by a woman I know. My friend, like Sydney, was born to a couple who travelled the world. She told me her parents put her "in a backpack" and never slowed down. My friend had seen most continents by the time she was five years old.
That's something that makes Sydney (named for the city in Australia) unique amongst my heroines. Sydney shares her parents' love of the world, and she has an adventurous spirit that she doesn't want any man to tame. So…enter Michael Dayton, Dom, cowboy, a man of integrity with roots to the land that go back generations.
Q: Please tell us more about hero Michael Dayton. What makes him a swoonworthy hero?


I fell in love with Michael because of his commitment to the land and his way of life. He's a man who knows what he wants, knows how to give his woman what she wants, and is unwilling to compromise. I also love that he thinks the world of his sister and nieces, to the point he keeps their pet goat on his ranch. His employees have been with him forever, and he treats people well. To me, Master Michael is as untamed at the land, and just as rock solid. Oh yeah, and he's fabulously good looking in a pair of jeans, is into outdoor scenes (hmmm), has a fabulous imagination, wants Sydney with a singleminded determination, and knows how to use all his…equipment.
Q: Lucky Sydney. ;p Sydney was extremely active and participated in a lot of adventurous sports. What made you have her fall in love with somebody with roots on a ranch instead of someone who would share in the adventures? Why was it important for her to have a single place to call home and somebody to come back to?


I think all of us need a safe place to land. It's always great to know that no matter how much you reach for the stars, you always have someone or something there to ground you. In Michael's case, he really can't take time away from the ranch, but after being with a clingy sub, Sydney is exactly what he needs.
Sydney, after having been tied down, literally and figuratively, needs to know she can go fly with the eagles, and that Michael and the ranch will be there when she lands.
She is fiercely independent, and in some ways, she really prefers it that way. She gets to go out and have these grand experiences and yet she still knows that Michael shares in other grand experiences. It's not a matter of not experiencing things together for her, it's a matter of her having the best of both worlds, really.
Q: From the blurb, I like this line: "He watches her reactions, sees what she wants, and unselfishly gives her what she needs." I like a man who's sensitive to his woman's needs and takes good care of her. What does Sydney like most about Michael? What makes him perfect for Sydney, despite her fears?


I like that, too! Sydney appreciates that Michael is different from anyone she's met. He's scary to her in some ways because he is similar to a man who was overbearing and scared her off, but Michael has a patience about him, an interesting contrast to his dominating ways. He's complex and intriguing, but most of all, steady. With him, Sydney knows what to expect. He's constant, unwavering, and yet supportive, protective, and he's got his feet rooted in the ground. He's her grounding, her safety net, and her biggest supporter. He might demand more than she wants to give, but she always knows where she stands. And who doesn't want to be loved and pursued by a sexy man who wants to make your deepest fantasies come true?
Q: What about Sydney? What makes her different from the other submissives that Michael was captivated by? What makes her perfect for him?


What makes Sydney perfect for Michael is her flair. She has a fabulous sense of humour, and he admires her adventurous nature. It would be impossible for this amazing rancher to dote upon a sub full time…fences need mending, horses need training, and pygmy goats need their secret lair to be discovered. He already had a full life before Sydney, and Sydney had a full life before him. It's a challenge for both of them to make not only the time, but the emotional space for one another…and so while she's off backpacking the Continental Divide, he's able to take care of that "real life" stuff.
Q: What was the most romantic thing Michael did for Sydney?


I loved the way Michael tuned in to what Sydney wanted, what she craved, sometimes without her having to ask for it. More than anyone else, he also recognised her unspoken fears. She doesn't have to voice them, Michael simply behaves in a way that makes her feel safe. At least for me, when I feel safe, there's a layer of trust that makes it possible to let go emotionally. There's nothing more romantic than that.
From Mastered 3: Over The Line
With his hat still firmly in place, the lord and master of the place unlocked the gate before walking back to her vehicle. She rolled down the window.
"Welcome," he said. "Follow me through the gate. I'll close it behind us." He placed his hands on the door and leaned in.
Damn, he smelt good—of rugged, open space.
"Scared yet?"
"Not a chance."
He grinned then. "That's my girl."
The easy familiarity took her by surprise. No one had called her anything like that. Nasty sex words, yes. Syrupy, sugary, hoping-to-get-you-to-bed words like honey and baby, yes. But something that innocuous? Definitely not. It didn't fit her. So why the hell was she smiling back at him?
Without another word, he turned away. She watched as he climbed back into the truck then drove through, stopping a fair distance away.
She pulled in behind him, then watched in the rear-view mirror as he strode back to secure the chain and lock again.
Now
she was nervous. He'd effectively blocked her escape.
He stopped by her vehicle again.
"The code for the lock is M-Y-H-M," he said. "Shorthand for my home, so it's easy to remember."
She exhaled. "How did you know?"
"Honey, you haven't blinked in thirty seconds. Not much scares you, does it?"
Sydney slowly shook her head.
"But the things that scare you are debilitating."
Q: In the entire series, which character was the hardest to write? Why?


Honestly, I struggled most with Julia, heroine of With This Collar. She's a newbie to the scene, and wow, Master Marcus is a handful. She's strong, independent, and a bit of a skeptic. (Hey now, stop comparing her to me! LOL) Trying to balance those characteristics with her desire to experience BDSM was a challenge. I wanted to show her character's growth and struggles, and I had a lot of thinking to do to ensure she was consistent. I learned a lot from writing the book, though. We're all complex. We as human beings can have conflicting thoughts and emotions. And I worked really hard to show that in a logical way, even though we, as people, are not always consistent. (I mean, well, YOU are, I'm sure. But I'm not.)
Q: Which character was the most unforgettable? What made him/her so?


I love hearing from readers about this very question! Different characters resonate with different readers, and I think my answer will shock you. My favourite character? Okay, I'll tell you. Gregorio. Who doesn't love a strong, bald, tall, handsome man that not only cares for others and guides them, but is fully capable of kicking butt, taking names, and handing out spankings? Yummy.
Q: Will we get to see characters from previous books in future books of the series? What kind of roles will they play?


It's a ton of fun to re-connect with characters, isn't it? That's one of the things I love about series. Each of the six books in the
Mastered series
is designed to be a standalone, so that you can pick them up and be completely comfortable with each story. You'll see continuing characters like Gregorio and Master Damien. And you'll have a chance to hear about characters you've enjoyed from previous stories. Be sure to keep an eye out for references to other things mentioned in the first books, though!
Q: What is your writing process? Is it the same for every book or do you have several approaches depending on how the story strikes you?


My writing process is mostly the same for each book. I have a fairly complex overview and character charts and descriptions that I've thought out ahead of time. Then, when I get into the book, I find I write chapter one about six times. I work every day so that I gain momentum, and then the last few days, people wonder if I am still on the planet. I can write eighteen hours a day. Friends and loved ones will call and e-mail to ask if I remembered to eat or sleep. I will lose track of the days. The book becomes my world. And then, ahhhh, when I'm done…? I go back and revise chapter one. Again.
Q: LOL What's up next in the series?


I'm delighted that we still have a few more books to come. Mastered 4: In His Cuffs features our heroine, Maggie, who meets her match when David Tomlinson, her alpha male boss ties her to an untenable employment contract to ensure he keeps her talents on his team. Finding him impossible to deal with, she escapes to the Den for a fun-filled Ladies' Night, only to discover her boss is also a House Monitor at the Den. What could possibly be worse?
In Mastered 5: For The Sub, Brandy, who's a house submissive (and who has appeared in a number of the books) gets her story, matching her up with Niles, a renowned Dom who's been a bit of a recluse since the death of his wife, a perfect, lovely woman who is nothing like Brandy.
And then in Mastered 6: In The Den,
oh la la
, Master Damien finally meets a woman to shake up his orderly life, but that's nothing compared to how Master Damien will turn Domme Catrina upside down, making her question everything she ever knew.
In the future, you can expect more series, with continuing characters and even more complex, captivating storylines.
Awesome! Can't wait! Thanks for being with us to talk to us about your latest novel. It's a pleasure to have you with us!


Bio:
Born in Manchester, England and raised in the US, Sierra Cartwright is the acclaimed author of more than twenty erotic romances.
Last year, she was delighted to be among the launch authors for the exciting Clandestine Classics imprint from Total-E-Bound Publishing. The project generated international interest, and her contribution, the expanded Jane Eyre, was featured in segments on such shows as Jimmy Kimmell and Anderson Cooper Live. Time Magazine, Entertainment Weekly, and numerous other online sites also wrote features about the provocative new book.
Cartwright has been interviewed by USA Today, and she did a segment for the Orlando Fox affiliate with Chase Cain.
She's a multiple CAPA nominated author who is delighted by the success of With This Collar, the first book in a six-book series "Mastered" from Total-E-Bound Publishing.
With This Collar has reached #1 on the Amazon UK Kindle Erotica chart, and #3 in the US Amazon Kindle bestseller list.
sierracartwright@hotmail.com
Website:
http://www.sierracartwright.com/
Mastered Series Website:
http://www.total-e-bound.com/series/mastered/
Facebook:
https://www.facebook.com/SierraCartwrightOfficial
Twitter: @sierrawrites
Backlist:
GIVEAWAY!!!
Sierra is giving away
1 ebook giveaway of Over the Line (Book 3 in the Mastered Series)
! Thanks, Sierra!
ADDITIONAL GIVEAWAY!!!
For all Featured Book Interviews, TRR is sponsoring a prize!
Each comment you make gives you one additional point to win this—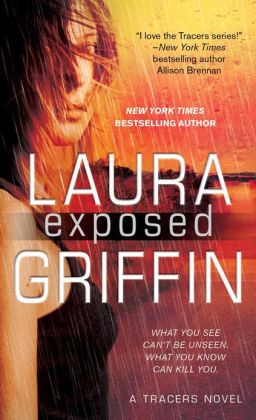 EXPOSED by Laura Griffin (paperback or ebook) –
Read the review here!
– International winner!
Mechanics:
Simply
write a comment or ask a question in the comment box below
to be entered into the giveaways!
Contest ends July 31, 2013.